CloneDeploy is now Theopenem. All users should migrate to the new version found at https://theopenem.com This site will stay up for the near future for historical purposes, but no further development / support will be provided. Theopenem simply expands upon CloneDeploy while still being free and open source. Combining these two products into a single one makes better use of my time, allowing me to provide more updates to the software.
We understand that you want to install Windows 10 on UEFI mode using Linux PXE server. Giving that information, the issue you're experiencing is beyond the support scope of the Community Forum. In line with this, we encourage you to post your query on this TechNet Forum for a more suitable technical resolution of your concern. On the PXE boot server, open CCBoot main window, double click PC101 (Figure 10) to open the master PC's properties dialog box, uncheck 'Enable Upload Image' and 'Keep Write-back File'. How to configure PXE booting over UEFI on a PowerEdge without using Server 2012 and Windows Deployment Services This article provides a walkthrough for setting up PXE booting over UEFI without needing a Server OS or Windows Deployment Services to boot to the Microsoft Deployment Toolkit. Deployment Steps: When we boot our computer, we will use the PXE technology on our Network Interface Card (NIC) to locate the WDS server. The WDS server then sends the boot image to the client. After the client chooses the install image. This image will be copied from the install image on the WDS server to the client computer.
What Is CloneDeploy?
CloneDeploy is a free open source solution for computer cloning / imaging. It is an alternative for other solutions such as Symantec Ghost Solution Suite, Acronis Snap Deploy, Windows Deployment Services, etc. It supports imaging Windows XP through Windows 10 and Linux, using both Unicast and Multicast technologies.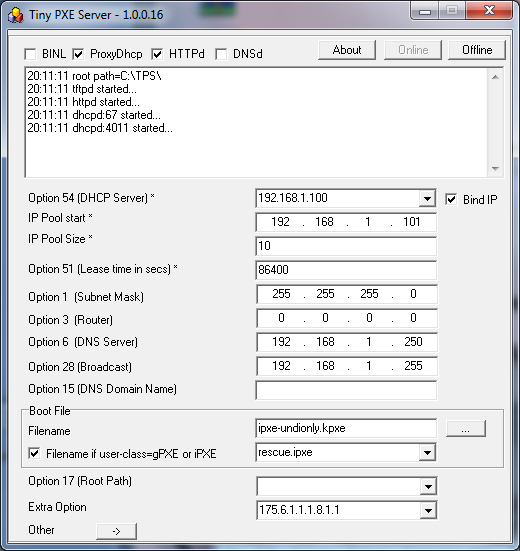 Features.
Multiple Imaging Environments for greater compatibility
4k Native drive support, advanced format drive support, and 512b drive support
Deploy EFI images to legacy computers and vice versa(Currently only Windows images)
MBR and GPT
Legacy BIOS and EFI
Full LVM Support
Full Extended/Logical Partition support
NTFS, FAT, ext2, ext3,ext4, xfs
Cloning to smaller drives
Automatic computer renaming
Client booting from USB/ISO/PXE
Simple Web Interface
Completely automated imaging
Custom scripting
Multicast
Can be installed on Windows or Linux
Bare Metal Restores
Is It For Me?
CloneDeploy was created to be used primarily in schools or small businesses. It can be used to image 1000's of computers (probably not all at once). It should be used with an existing infrastructure. Meaning, a network with managed routers / switches, DHCP server, etc. CloneDeploy is intended to be installed on a server that is always running to ensure imaging is readily available.
Windows 10 Pxe Server Software
How Does It Work?
CloneDeploy is a managed solution consisting of two parts. A server side component and a client side component. The server side is installed on Windows or Linux and the UI can be accessed from any web capable device within your network. Imaging is achieved through your network with the use of PXE booting and WOL or you can use the standalone client iso for CD booting or USB booting. To achieve the best results all of your clients are added to CloneDeploy, then you simply search for the computer you wish to deploy and start the task. The client will automatically turn on and begin to image. Imaging can be accomplished without ever being present at the physical machine's location.
What it is NOT.
CloneDeploy is NOT a backup solution and should never be used as such. It is only intended to provide imaging capabilities for generic images that do not contain irreplaceable data.
CloneDeploy is NOT an unattended installation of Windows. CloneDeploy is a cloning program. It creates an image of an existing machine that can then be deployed to other machines. Yes, it could be thought of as unattended because it is totally automated, but there is a difference.
-->
Applies to
In this topic, you will learn how to deploy Windows 10 using Microsoft Endpoint Configuration Manager deployment packages and task sequences. This topic will walk you through the process of deploying the Windows 10 Enterprise image to a Unified Extensible Firmware Interface (UEFI) computer named PC0001. An existing Configuration Manager infrastructure that is integrated with MDT is used for the procedures in this topic.
This topic assumes that you have completed the following prerequisite procedures:
For the purposes of this guide, we will use a minimum of two server computers (DC01 and CM01) and one client computer (PC0001).
DC01 is a domain controller and DNS server for the contoso.com domain. DHCP services are also available and optionally installed on DC01 or another server. Note: DHCP services are required for the client (PC0001) to connect to the Windows Deployment Service (WDS).
CM01 is a domain member server and Configuration Manager software distribution point. In this guide CM01 is a standalone primary site server.

CM01 is also running WDS which will be required to start PC0001 via PXE. Note: Ensure that only CM01 is running WDS.

PC0001 is a client computer that is blank, or has an operating system that will be erased and replaced with Windows 10. The device must be configured to boot from the network.
Note
If desired, PC0001 can be a VM hosted on the server HV01, which is a Hyper-V host computer that we used previously to build a Windows 10 reference image. However, if PC0001 is a VM then you must ensure it has sufficient resources available to run the Configuration Manager OSD task sequence. 2GB of RAM or more is recommended.
All servers are running Windows Server 2019. However, an earlier, supported version of Windows Server can also be used.
All server and client computers referenced in this guide are on the same subnet. This is not required, but each server and client computer must be able to connect to each other to share files, and to resolve all DNS names and Active Directory information for the contoso.com domain. Internet connectivity is also required to download OS and application updates.
Note
No WDS console configuration is required for PXE to work. Everything is done with the Configuration Manager console.
Procedures
Start the PC0001 computer. At the Pre-Boot Execution Environment (PXE) boot menu, press Enter to allow it to PXE boot.

On the Welcome to the Task Sequence Wizard page, type in the password [email protected] and click Next.

On the Select a task sequence to run page, select Windows 10 Enterprise x64 RTM and click Next.

On the Edit Task Sequence Variables page, double-click the OSDComputerName variable, and in the Value field, type PC0001 and click OK. Then click Next.

The operating system deployment will take several minutes to complete.

You can monitor the deployment on CM01 using the MDT Deployment Workbench. When you see the PC0001 entry, double-click PC0001, and then click DaRT Remote Control and review the Remote Control option. The task sequence will run and do the following:

Install the Windows 10 operating system.
Install the Configuration Manager client and the client hotfix.
Join the computer to the domain.
Install the application added to the task sequence.

Note

You also can use the built-in reports to get information about ongoing deployments. For example, a task sequence report gives you a quick overview of the task sequence progress.

Monitoring the deployment with MDT.

When the deployment is finished you will have a domain-joined Windows 10 computer with the Adobe Reader application installed as well as the applications that were included in the reference image, such as Office 365 Pro Plus.
Examples are provided below of various stages of deployment:
Pxe Server Windows 10 Iso
Next, see Refresh a Windows 7 SP1 client with Windows 10 using Configuration Manager.
Related topics
Pxe Server Windows 10 32-bit
Prepare for Zero Touch Installation of Windows 10 with Configuration Manager
Create a custom Windows PE boot image with Configuration Manager
Add a Windows 10 operating system image using Configuration Manager
Create an application to deploy with Windows 10 using Configuration Manager
Add drivers to a Windows 10 deployment with Windows PE using Configuration Manager
Create a task sequence with Configuration Manager and MDT
Refresh a Windows 7 SP1 client with Windows 10 using Configuration Manager
Replace a Windows 7 SP1 client with Windows 10 using Configuration Manager